NetEase Games Ranked No. 3 on App Annie's Top 52 Publishers
NetEase Games is ranked No. 3 on App Annie's recently released Annual List of Top 52 Highest Earnings Publishers of 2016 for iOS and Google Play Stores. Compared to the previous year, NetEase Games made a huge leap from No.9 on the same list in 2015 to top 3 in 2016.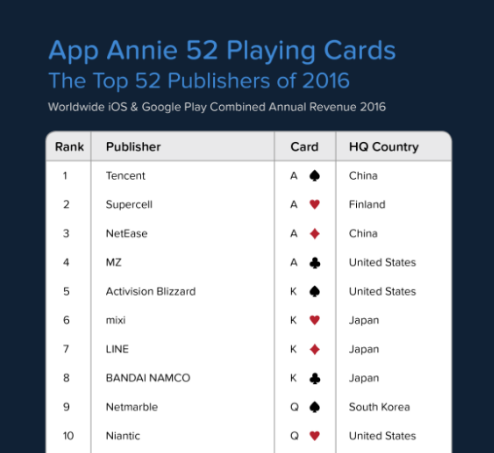 NetEase had another blockbuster year in mobile gaming in 2016. Classic NetEase mobile games such as Fantasy Westward Journey, Westward Journey continued to remain popular among players. In addition, NetEase released over 40 new mobile games in 2016. Some of the new games were mobile reincarnation of flagship NetEase PC games such as Tian Xia and Ghost. Others were self-developed brand new mobile games such as Onmyoji and Great Voyage. With cutting-edge gaming experience and great reputation of NetEase Games, the new mobile games also earned high praise from both players and industry insiders.
Take Onmyoji as a example, this game has exceeded 200 million downloads worldwide since the initial launch in September 2016, and was rated one of the 2016 Annual Top 10 App Store Games and Facebook's 2016 Mobile Game of the Year. Besides the flagship games, other products also drive the company to make more achievements. In 2016, NetEase Games won 18 times of New Game Recommendations and 34 times of Best Update from the App Store. The company rounded off a fantastic year of 2016 with recognition as Top Developer from both App Store and Google Play.
In addition, NetEase Games has strengthened its partnership with top global game developers and platforms. NetEase Games continues its partnership with Activision Blizzard to publish best-selling games such as World of Warcraft and Overwatch in China. Working with Mojang, NetEase Games is brining Minecraft to China for the first time. The company's first virtual reality game, Twilight Pioneers, premiered last year on Google's DayDream VR Platform and received great reviews. It seems likely that NetEase is on track to deliver great results again in 2017.
Hot